Anything Mixed With a German Shepherd
by George
(Massachusetts)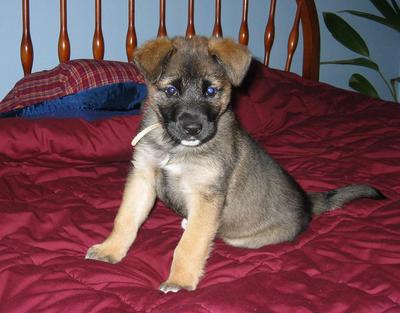 Duke at 8 weeks
I know that's not technically a dog breed, but that is my favorite. I grew up with German Shepherd mixed dogs and there was always something special about them. They have had all the good qualities of German Shepherd without the hip problems that some have.

The first dog I remember having when I was growing up was Queenie, a Collie/Shepherd mix. Then came Sissy, an honest to goodness mutt (she definitely had German Shepherd in her, but who knows what else).

My current dog is Duke, born under my grandmother's bed. He was the last of 7 puppies...no one seemed to want him. I brought him home not knowing for sure that he had any German Shepherd heritage. But, his coloring looked promising. Duke's mother was a 35 pounds mixed breed (if she had any German Shepherd in her, you couldn't tell by looking at her). His dad was unknown.

As Duke got older, it became more and more apparent that he had a lot of German Shepherd blood. He's a wonderful dog...very intelligent, loyal, protective and yet very gentle.

I couldn't have asked for a better canine companion. Definitely one of the best dog breeds (even if it isn't really a breed).
Join in and write your own page! It's easy to do. How? Simply click here to return to Best Dog Breeds.