Premium Dog Food
Makes the Healthiest Dogs
Is a premium dog food really worth the extra cost? Absolutely! But only if you get the right one. You see not all dog foods are alike. They don't all have the same ingredients or the same quality of ingredients.
And most importantly, they're not all made with the same care (we wouldn't have all the pet food recalls if they were).

Premium Dog Food vs. The Cheap Stuff
Many new dog owners think that any old dog food will do. In fact, some look for the cheapest brand they can find. They don't understand that there are hidden costs associated with feeding such cheap food.

Here are a few of those hidden costs:


You'll have to feed more of cheap dog food than a premium dog food to get the minimum level of nutrition. The recommended serving size is much larger for cheaper brands. So the food isn't actually as inexpensive as you may have thought.
Because your dog has to eat more food, you'll have to pick up more poop.
You dog will not likely be as healthy as he could be. You may find that you spend more time and more money with your veterinarian. Cheap dog food just doesn't provide the same level of nutrition that a premium dog food does.
Put the Health of Your Dog First
I'm sure you've heard the old saying that "you are what you eat." Well today, more and more researchers are realizing just how important good nutrition is for maintaining our health. And, this is just as true for our pets.

If you want to give your dog the best chance for living a long and healthy life, you'll make sure that he gets the best nutrition available. Remember, you're responsible for providing all the nutrition that your dog gets.

Great nutrition starts with a good premium dog food. A few years ago, I went on a search to find the best holistic dog food available. The videos on this page are from the company that I found through my research. It's the only pet food company that I'm comfortable recommending.

Premium Ingredients for Premium Dog Food
There are many factors that go into making a good premium dog food. One of the most important factors is the quality of the ingredients used to make the food. Many dog food companies use the cheapest ingredients they can buy.
These ingredients can include corn, wheat, artificial colors and flavors, dangerous preservatives, and even the carcasses of other euthanized pets (believe it or not).

This video discusses the kind of ingredients that should be in your holistic dog food:

The Role of Freshness in a Premium Dog Food
Do you know how old the dog food is that you buy from the local grocery store or pet supply store? Because of the way dog food companies choose to distribute their products, the dog food you buy in the store can be as much as 12 to 18 months old.

This is the main reason that pet food companies choose to use powerful but dangerous preservatives. They keep their products from spoiling over the many months they spend in the warehouse and on the shelf.

This video shows the importance of freshness and how one company works to provide the freshness that a premium dog food deserves:

How Safe is Your Dog Food
In 2007 there was a major pet food recall in the United States. The tainted food that caused the recalls was responsible for hundreds of pet deaths. The list of recalled brands even in included many of the so-called premium dog food brands.

This recall is what started me on my search for a better and safer dog food for my dogs.

This video talks about safety and how one company works to make sure that their products are safe for their customer's pets:

A Premium Dog Food Company You Can Trust
You may not realize that most pet foods are actually made by huge multinational companies. For these companies, making pet food is just a side business...one of the many ways that they have of making more money.
Making the very best pet food is NOT their passion.

Making the most profit from their products, however, is their passion. How can you trust such companies to make the best food for your pets?

This video shows how one pet food company earns the trust of its very loyal customers:

Treats Don't Have To Be Junk Food
When it comes to giving your dog the best nutrition possible, many new dog owners (and even long-time dog owners) forget about the treats they give their dogs. Most of the treats available today are simply junk food for dogs. They don't offer hardly any nutritional value at all.

Why not use the treats you give your dog as another opportunity to give them some great nutrition? This nutrition will help to keep them healthy and happy for years to come.

Check out this video to see the care that goes into one pet food company's treats:

Saving Money on Premium Dog Food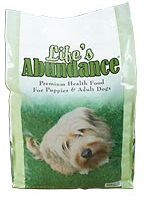 By now, I hope you see how important it is to give your dogs the best holistic dog food that you can. As I said earlier, Life's Abundance produces are the only ones that I can recommend.
I don't know of any other brands that can meet the quality and freshness available in these products. But, what about the cost?

You may be surprised to find that even with the shipping costs, the Life's Abundance pet food costs about the same as most high-end pet foods that you'll find in your local pet supply store.
But here are a few tips for saving a bit of money on your purchases:


Go on Autoship. With the autoship program, you get the same wholesale pricing that distributors get. You can request any time period for the automatic shipping to take place. You can change or cancel your autoship at any time. Its an easy way to save money on all your pet products.
Add treats, supplements, or other pet products to your order. In most cases, these additional products will not add anything to your shipping costs. So you'll essentially be getting these products without any shipping costs.
Consider getting twice as much as you need and only ordering half as often. Will one bag last you a month? Consider ordering 2 bags every other months. Again you'll find that the shipping is much less than having 2 separate orders shipped. For the sake of freshness, I don't recommend ordering more than you'd need to cover 2 months.

To check out these products further or to place an order (yes, there's a money back guarantee), go to idealfoodforpets.com.

Questions?
I love promoting these products because I thoroughly believe in them and the company behind them. If you have any questions about the company, their products, your particular situation, or anything else, please don't hesitate to contact me.
Just use this contact form:

---
Return from Premium Dog Food to Choosing the Best Dog Food