Dog Photos:
Share and Enjoy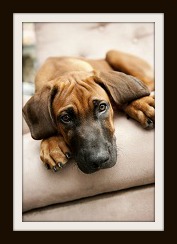 Who doesn't love dog photos? If you're like me, you've probably got a lot of pictures of your dogs. With so many ways to take pictures today -- small camera, cell phones, even tablets -- taking dog pics is easier than ever.

As dog owners, we loving taking pictures of our dogs in all kinds of situations. I have pictures of my Duke playing in the snow, swimming in the lake, chasing squirrels, sleeping shamelessly on my bed.
I have pictures of him when he broke his leg and was in a cast (he doesn't look very happy in any of those dog pics).

Of course, I have pictures of Duke as puppy and as he grew into adulthood. Pictures of dogs bring back cherished memories of our beloved pets through the years they spend with us.
And, it's natural for all dog owners to enjoy sharing them with other dog lovers.
Celebrate Your Photographs as Artwork
So often our favorite dog pics get buried in a folder on our computer, or cell phone. We take so many pictures that its hard to really celebrate the few special ones. Well here's a great way to do just that...turn your favorite dog photos in hanging artwork.

And, it's easier than you may think. The people at MyPix2Canvas.com will take your quality dog pics and turn them into works of art on canvas. The result are amazing and it takes just a few days. Just follow this link and use the "promo code" MP2CANVAS30, and get 30% off.
Share Pictures of Your Dog
I hope you'll take this opportunity to share some of your favorite dog pics with us! Your pictures could be funny, endearing, entertaining, or just plain cute. Whatever it is, sharing with the community and tell us a bit about the picture.

For instance, your dogs name, age, breed, personal traits and habits. Also, tell us something about the photo...what prompted you to take it, what was the dog doing, what makes the photo special to you.
Enjoy Others' Dog Pictures
We hope you'll check in often to see what new dog pics have been posted. And, if you see some that move you, please share your thanks with the poster by adding your comment.
Have A Great Dog Photo?
Do you have a great dog picture that others would enjoy seeing? Share it!
---