Travel With A Dog:
The Only Way To Go!
Do you travel with a dog? I travel with mine all the time. It's not always easy but I hate leaving him home when I go out of town. It's not always best to take your dog with you, however. 
| | |
| --- | --- |
| | (This particular mode of traveling with a dog is NOT recommended. Your small dog could be seriously hurt if your airbags deploy.) |
Before you dash off on a trip with your dog, consider the following questions:
Will you be happy keeping an eye on your dog for the entire trip?
Will those you are going to be visiting be happy having your dog with them all the time?
Do you have a plan for those times when you can't have your dog with you?
Will your dog be happy with the situation?
Would it be better for everyone involved to leave your dog with sitter, or to board him?
If you do decide to travel with your dog, here are some tips for making it a successful trip...
Preparing to Travel with a Dog
Traveling with your dog can be a lot of fun if you prepare for each trip properly. If you fail to prepare for your trip, you could have a perfectly horrible trip.

Here are the things you need to do to ensure a successful trip with your dog:

Make sure that you have proper identification on your dog. This could be vital if you somehow get separated from your dog during your trip. The ID should include your cell phone number, so anyone finding your dog can quickly contact you.
Make sure that your dog is well-trained (so you can control your dog at all times), well-socialized (so your dog will get along with other people and pets that you might meet), and used to traveling in the car. A long car trip should not be your dog's first trip.
Packing for Travel with a Dog
You'll need to have a crate or carrier. This will keep your dog safe whenever you're not able to watch your dog closely.They're also required at most dog-friendly hotels/motels. The crate should be...
Large enough for your dog to stand, turn around and lie down comfortably.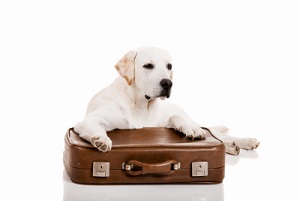 "Yes, I'm all packed and ready to go!"
Make sure to Pack:
Treats and a few favorite toys

.
Travel with a Dog by Car
Make allowances on your trip for food, water, walking and potty breaks. Every 2 or 3 hours works well.
Travel with a Dog by Air
Where to Stay when you Travel with a Dog
Today, more and more hotels and motels are making accommodations for travelers with their pets. But, each has their own regulations by which you must abide. It is best to understand (and print out) these regulations before making your reservations.

Some accommodations have restrictions on the number of pets, or the size of pets. Most will charge you extra for the luxury of keeping your dog with you. A refundable damage deposit is often required.

Here's a list of options for pet-friendly hotels/motels that you might try:

www.bestwestern.com

www.motel6.com

www.lq.com

(LaQuinta Inns & Suites)

www.holidayinn.com
Have A Great Story To Tell About Traveling With Your Dog?
We'd love to hear your story about traveling with your dog. Please share it!
---